After A's article on noisy vs. quiet offices, I began to think about how different my life would be if i worked in a quiet office.   Some of my best friends (Adrianna obviously included) come from work, thanks to a few collaborative projects, venting over picky clients or after-work happy hours.   When I came to my current company, the office was significantly louder (we call our cubicle area "The Pit" since it kind of behaves as a smorgasbord of PR activities) which forced me to be outgoing.   I have gotten used to having conversations over cubicle walls or in hallways vs. sending emails or gchat messages, and I definitely prefer it.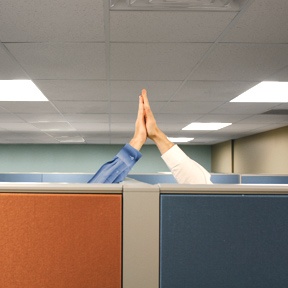 It can be intimidating to make that first step into being the social butterfly of the office, especially if your office is rather quiet to begin with.   And of course, there is a fine line between being friendly and approachable at work and being the office busy-body.   Here are a few tips on how to strike up a new friendship at work, whether you're just starting your internship or have been at your office for years:
Strike up a conversation with someone you admire – Everyone has that person in the office that they look up to.   If it's a superior on your team or someone who works with another client, try to find time to talk to them about something other than work.   Set up a brainstorm and ask them to attend. Talk about the latest episode of The Voice.   This could also be the start to a mentor relationship if you play your cards right
Make your workspace visit-friendly – Every PR girl enjoys a chocolate break.   Sometimes people need a quick hair fix, a bobby pin, or a mirror.   Then there are those who just need to sit and chat to blow off steam while flipping through the latest magazine.   Have a few items in your workspace that you need on a day-to-day basis, and be sure to include enough to share.   Being one of the beauty girls, I'm usually asked for dry shampoo, nail polish remover or lotion.   It's always a good opportunity to catch up with people while sharing some goods
Invite everyone to an outing – Did a new lunch spot just open? Send out a note and ask if a few of your colleagues would like to go out for lunch.   Working a little too hard these days? Schedule a happy hour and put it on your peers' Outlook calendars.   If you're feeling self-conscious about asking people to work (finding work friends can feel a little bit like finding your next boyfriend), just remember that everyone else is looking for new friends too!
image via