We are in the thick of it now – New York City Winter. While March is only 10 days away, this chill is showing no signs of letting up. There are boulders of ice covered with slushy mush and the wind will whip your fox-fur hood right off you. It's not my favorite time of year by any means.
The good news is, spring is SO close. Just a few weeks left and we can make plans for spring break and summer concerts. In the meantime, here are a few ways I like to get through the brutal NYC winter: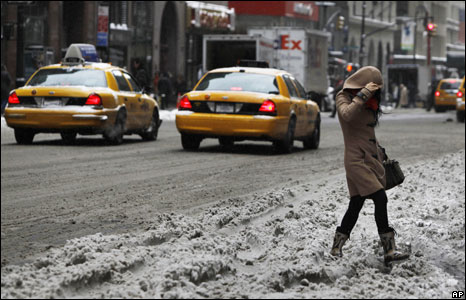 Stay inside – Duh. But I don't mean hole up in your apartment for days on end with Netflix. Find a place with a fireplace or a coffee shop with cozy couches where you can read and enjoy the afternoon pass by.
Find a few events to look forward to – I made a huge deal of Valentine's this year because at least it was a huge-heart-filled-holiday to break up the bleak winter week. You can also find a local concert, an art exhibit, or host a dinner party. Anything to give you something to look forward to.
Get organized – When the weather is beautiful, I rarely want to spend time in my apartment organizing my things. So take advantage of the heat blasting and flannel pj's to clean out your closet. This winter I've donated about 3 trashbags of clothes and completely revamped my bathroom.
Day dream with Pinterest – Whether it's your secret wedding board or your dream apartment, get on Pinterest and shamelessly look for everything from a new couch, curtains, barns with chandeliers in them – whatever floats your boat. I do some of my best design day dreaming in the winter.
image via